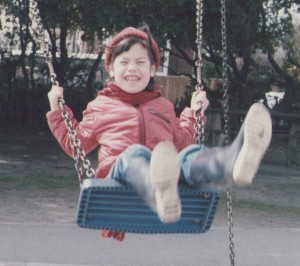 If there's one word that might be used to define me, I feel it might be "duality". As an Eurasian, as someone born abroad but culturally British, as a scientist and artist… And while I'm not really a believer of astrology, I do think that being a Libran chimes well with needing to reconcile and balance all these aspects of myself.
My principal occupations are as a marine scientist and an actor-musician (mostly a resting actor, but I'm working on it). I also write and am developing bits and pieces for stage and more.
Science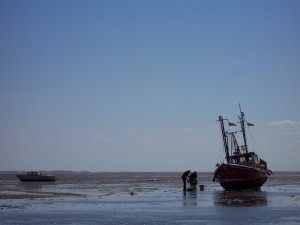 As a scientist, my specialism is fisheries management, and I worked for several years as a research scientist and fisheries officer with a local government fisheries management body on the east coast before setting up as a freelancer. I think what drew me to fisheries (a decision that actually caused one of my postgrad lecturers to laugh at me) is a fascination with how people live within our environment, and the endless balancing act of sustainable resource management. Fisheries and marine environmental management is a developing discipline – which in itself is interesting – and it sits at the interface between socio-economics and ecological sciences. Socio-ecology, if you will – or perhaps human geography of the marine environment. People are the interesting part of  the equation. The problem, the solution and the unknown constant. Fish are interesting, too – particularly lobsters, which I'm quite fond of. But not as intriguing as the fishermen, conservationists, managers, local community and the rest. You can read more about what I do on my consultancy site: Spindrift Marine – and learn what I think about fisheries and marine issues on the blog.
Recently, I attended "Expert Voices" training run by BBC Academy, which gave me a grounding in media training. The idea is I am now better-equipped to go forth and expound on science to audiences on radio, TV and other media – and also have a better understanding of how to pitch my own ideas to the right people. Watch this space!
Arts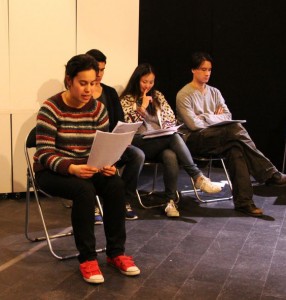 I acted quite a bit when I was younger in school productions and youth theatre, and at uni. I'm not sure my acting career will top the epic devised production of Watership Down that I put on in primary school, but one has to try… Although I studied science at university and eventually ended up working in that field, I took up performance again about ten years ago, first through improvisation and then further acting training on a part-time basis. I've been gradually building up experience in theatre and short film, thanks in part to organisations such as Yellow Earth Theatre and Tamasha. I'm represented by Gemma Lloyd at Act Up and my CV and particulars can be found on Spotlight.
I've always loved music, and am a keen amateur musician, mostly to be found singing or playing viola with my friendly local symphony orchestra. I've played the piano since I was six, and as well as the classical training I followed on this instrument I also got up to a half-decent standard on the viola and flute. I still play the piano, rarely the flute – but have also developed a habit of  hoarding musical instruments. My collection of extras currently stands at: tenor sax, violin, a classical guitar, steel stringed acoustic and an electric guitar, ukulele, a number of recorders and a penny whistle (although actually I haven't seen that for a while). I'm better at Guitar Hero than Actual Guitar, but am actively trying to redress the balance. Although most of my performance has been orchestral and choral stuff, I was briefly in a folk rock band and occasionally turn up as a ringer in friends bands.